Education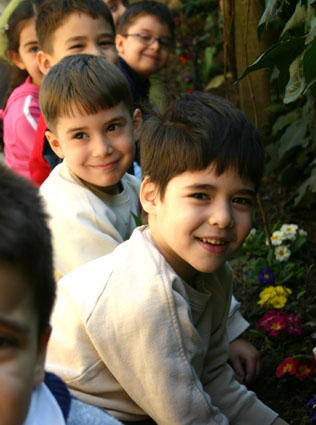 To raise students whose critical thinking abilities are advanced, who live in compliance with Atatürk's principles and revolutions, and use information technologies within the scope of Turkish National Education, is the goal of Private Istanbul College. Our school focuses on skills needed for a lifetime such as finding out ways to access the relevant information, thinking productively, researching, and being in touch with social environment. It also provides opportunities for students to express themselves via projects and to use technological means. We apply active learning method which states that students can learn any topic if the proper method and approach is used for every student. Therefore, they can fully utilize their own capacity.

In English courses which are 16 hours per week as blocks of two 40-minute periods, students learn via experience and entertainment under the supervision of a foreign teacher. Chess, music, installation, painting, dance, swimming, and PE courses make it possible for children to discover and develop their skills. Individual differences are prioritized within the context of multiple intelligences approach.

Teachers, who are specialists, teach 1st, 2nd, and 3rd grades in order to satisfy the educational objectives of Private Istanbul College. At the end of every educational year, these teachers hand over the students to the next grade teacher with a detailed "progress report". Teachers, who are experts of their age group, follow the new educational trends and attend seminars to improve themselves in their fields. Chess and dance lessons are in weekly course schedule for 1st grades.

Social studies lesson is student-centered in 2nd and 3rd grades. Participation skills develop while the topics are taught with themes. As these skills develop, attributions such as, self-respect, self-confidence, love, respect, and honesty are also integrated. Researches and projects force the students to use information technologies, take responsibilities, and cooperate. Turkish lessons are held with stories and drama in order for it to be more attractive. In Mathematics lessons, thanks to active learning, students have more self-respect, they are ready to learn and their advanced thinking abilities are developed. Question-answer, discussion, brainstorming, problem solving, and project-based learning methods are used as educational tools. Homework is a means to have them practice what they learn that day and to take on a responsibility. It is suggested that students do their homework by themselves without any help from family members, and for the questions they can answer, they should ask for help from their teachers.

Turkish, Social Studies, Science and Technology, and Mathematics lessons are held by in-field teachers in 4th and 5th grades. This is very important to create a background for OKS (Secondary Education Examination) studies.

It is aimed that English is learnt within a casual environment where English is prioritized with foreign teachers starting from 1st grade. Therefore, English courses in 1st grade are only held by foreign teachers, and in upper grades, foreign and Turkish teachers cooperatively carry out the studies. Books of English courses, which are suitable for every age group, implement multiple intelligences theory and hence, the objective is to make every student fully utilize his/her own capacity. Following the 5th grade, students are expected to be able to express his/her feelings and thoughts in a foreign language fluently.

Language education, which is standardized by The Common European Language Framework (CEF), will ease their whole life in the future.