Music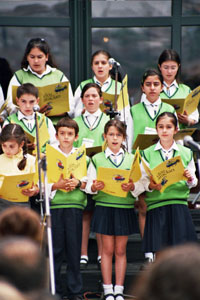 Our school believes that a healthy and well directed music life starting from the childhood will make the individuals more successful, happy and stable, and indicates that the learning abilities and social skills of such children improves even faster. Researches show that music is not just an entertainment tool, but also a communication way that reaches the deep inside of the human soul and mind.

Within this framework, the general objectives and purpose of the musical education at Private Istanbul College are built upon the principle of ensuring the development of expression ability, aesthetics and positive thinking. The music lessons in our school are prepared in accordance with the needs of the students, making them participate and creative as much as possible. Also, with the airplay during the break periods, our students gain classical music culture. We aim to make music an essential part of the studentsí lives by utilizing different education methods.
The musical education program at Private Istanbul Collage is prepared with the concept that it will play a great role on recognizing other nationsí culture and developing the tolerance and understanding. In regard with this approach, there are various samples of world cultures.