Gym and Sports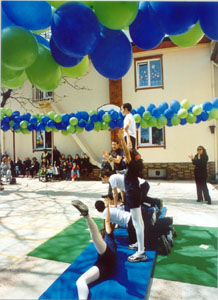 The purpose of the gym and sports class at Private Istanbul College is to determine the needs of the students based on their ages and grades, and to make them reach the desired level of physical competence. Our school places a special importance on the sports activities of each age group. In accordance with this principle, every student gets the gym program based on his/her age which will contribute in his/her physical development. The students are assisted in accordance with their talents and achievements in sports, and are taught to exercise regularly starting from the young ages.

The gym lessons in Private Istanbul College include sports, such as gymnastics, basketball, volleyball, handball, athletics, tennis and swimming, in accordance with the curriculum of Ministry of National Education, and some other branches such as sailing, riding, mountain climbing, ice skating and other less popular branches are also introduced. In case that there is enough interest in those sports branches, the students are directed to the clubs where they can practice such sports.

The gym and sports concept of Private Istanbul College is to make the students adopt a life-long sports idea. Gym has physical, psychomotor, mental, social and emotional effects on children's development.

Effects on physical development: The exercises performed during the early ages improve the bone structure, allow the muscles to develop better, protects the functionality and structural health and strength of the joints. Effects on psychomotor development can be divided into 3 groups: The overall behaviors and changes are the changes in the behaviors that determine the personality of the child within the society. Motor behaviors and changes are the reactions of the individuals. Complex behaviors and changes form the child's complete behavior.

Effects on mental development: The child understands the health principles and the importance of movement throughout life. He gets information on the nature of human movement, importance in growth and development, hygiene, prophylaxis, balanced and adequate nutrition, and healthy life habits.

Effects on social and emotional development: Harmony and coordination with others, learning and adopting the social rules, expressing the feelings, redirecting their depression and letting off their boredom, movement and development in creativity.