Dance Club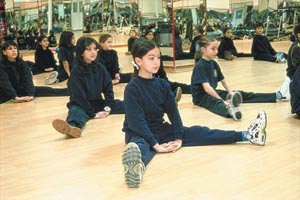 The purpose of dance lessons in the Dance Club of Private Istanbul College is to teach our students to listen to their inner selves and to express their emotions through "movement", which happens to be the basis of dance.

Dance is an expression of the discoveries of our inner worlds. As the skills of the students improve, they realize that movement is not only about wiggling; they take a step to the fundamentals of dancing, improve the coordination of their bodies, as well as their sense of rhythm, which forces them to move with technical concerns in mind. At this stage, where the awareness of movement transforms into dance, the students discover how an "art" is born out of the combination of emotions and expressions.

The Dance Club participates in joint works with the Music Club and the English Theater Club every year, and gives our students the opportunity to explore their potentials.

In the previous years, our students have performed the classical masterpieces such as "A Midsummer Night's Dream" and "Antigone", and in the recent years, they have been performing musicals such as "Beauty and the Beast", "The Hunchback of Notre Dame", "Aida" and "The Lion King".