Computer Aided Education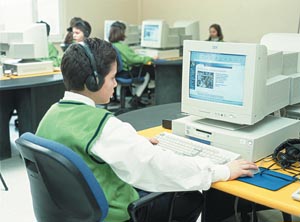 At Private Istanbul College, a particular importance is placed on computer and internet based education. Our laboratory, which is equipped with necessary hardware and software, provide our students with the audio-visual and interactive education opportunities. Within the scope of e-learning, our computer lab is powered by Nets Up School software.

Computer aided learning is adopted primarily in foreign language classes, as well as all other classes, and related CD-ROMs are utilized. In this way, classes such as Science and Social Studies become more effective in terms of audio-visual learning. Both the class teacher and the computer teacher stay ready in the computer lab during any classes. One-to-one communication is the main concern in the classes.

We provide the world-wide accepted approach of computer and Internet aided education in our computer lab, which is equipped with 22 computers. Our management system is Microsoft Windows 2003 in order to provide completely safe internet access. Our classes include PowerPoint support, as well as interactive contents, where the students are motivated to discover the information by doing researches.

Thanks to e-learning, each student can access to the contents of the lessons he/she requires over the internet, regardless of time and location. Thus, the students are able to review the course contents and solve related test questions at home, therefore better understand the subjects. The studentsí answers to the questions regarding the lesson clearly indicate their level of success; it even allows the teachers to identify studentsí weak points in any part of the course contents. The advantage of the detailed reporting and development statistics opportunities offered by the computer technologies is that they help the class teachers, while they also allow the parents to monitor the progress of the students closely.